Running out of Warehouse Space? Warehouse Costs Increasing?
Without investing in optimisation of your warehouse design and layout, you may well soon find yourself in a suboptimal situation with:
High warehousing and handling costs
Less efficient processes
Subpar customer service
Warehousing Problems?
There are any number of reasons why you might wish to review (and perhaps redesign) the layout and operation of your warehouse facility, but they all boil down to the same thing—securing or increasing your company's competitive advantage. We offer these services all around Australia & New Zealand in Sydney, Melbourne, Brisbane, Perth & Auckland, also all around the world in Thailand, Vietnam, Singapore, North and South America & about 30 other countries.
Customers typically come to us with these types of warehouse issues:
Running out of space
Costs too high
Poor productivity
Poor warehouse layout
Processes not working
Thinking of moving
Thinking of outsourcing
Why Logistics Bureau?
We at Logistics Bureau take a thorough and methodical approach to warehouse design reviews and improvement plans, helping your company extract maximum value from its facilities, removing many of the inventory management obstacles that inflate supply chain costs and ultimately erode profitability.
Logistics Bureau has a team of specialist warehousing consultants to suit all your needs, such as:
Improvements to an existing warehouse
Cost / benefit studies of different technologies
Help with warehouse analysis
Detailed Warehouse and Materials Handling Design Layouts on CAD Drawings
Expert Equipment Selection advice
Assistance in Supplier Negotiations to ensure the costs are minimised
System Integration and Project Management
Process Design and Staff Training
Complete distribution network design
Whether you are looking to optimise your existing facility or build a new one, the team of specialists at Logistics Bureau will work with you to achieve the results you need – and deserve. With decades of experience and zero attachments to suppliers in the market, we provide an independent perspective on the issues you are facing.
Click on the "Contact us now" banner just over on the right to contact one of our senior staff. In this space you can also click through to topical blogs and eBooks.
Recent Warehouse Layout and Design Projects
Examples of the recent layout and design projects include:
Location selection and design of utilities sector main distribution centre.
Design of central warehouse and satellite warehouses in utilities sector.
Distribution centre process improvement in entertainment industry.
Consolidation of multiple warehouses in automotive parts sector.
Warehouse design validation for major 3PL.
We have completed hundreds of warehousing related assignments for our customers in Australia, Thailand, Vietnam, Indonesia and elsewhere.
Do you really need a New Warehouse or Distribution Centre?
When your warehouse or distribution centre capacity is at bursting point, and costs are escalating while service levels are not being met, it is natural to assume that a bigger and maybe "smarter", warehouse would go a long way to addressing the issues.
That maybe the answer but how can you be sure? Could you remedy the situation and/or buy time by investigating the primary causes of the existing situation?
Logistics Bureau's consultants have extensive experience in assisting customers in the identification of causal issues through Warehouse Facility Design, Layout and Operations Audits.
These audits investigate the appropriateness and operational effects of the existing:
S and OP
Inventory/Buying Policies
Levels of Service Offered
Operational Processes
IT Systems
KPI's
Materials Handling Equipment
Equipment Layout
Warehouse Building Design
A change in even some of these could avoid the perceived need for a considerable expenditure on a new facility.
You definitely need a New Warehouse Facility!
If the need for a new warehouse facility has been confirmed, important decisions need to be made.
How can we ensure the optimum warehouse design & layout?
Companies rarely have available in-house expertise in warehouse facility layout and design, and the common response is to approach equipment/systems suppliers. Suppliers will naturally suggest solutions that can be met by their range of equipment. Their scope of supply and expertise will define their solution and so the investment required. The costs they incur in designing the solution will be recovered in the equipment cost. The Logistics Bureau has over three decades of experience in warehouse facility and operations layout & design.
Where should the Facility be Located?
The location of the proposed warehouse facility is likely to be a key driver of implementation and on-going transport costs. The Logistics Bureau can assist in this decision using elements of the Network Design and Supply Chain Mapping tools. The preferred locations can be checked for cost and availability of sites and/or existing buildings through the Logistics Bureau's Industrial Real Estate contact network.
Logistics Bureau Warehouse Design Methodology
Our warehouse consultant's design methodology begins with a review of the existing operations and the gathering of SKU and Transactional data. The steps in the warehouse design are initiated by the analysis of this data and can be performed by the Logistics Bureau's consultants, in consultation with the client, or by the clients staff with assistance by Logistics Bureau practitioners.
Warehouse Data Analysis
The historical data is analysed in order to build a picture of the operational warehouse requirements and costs for the period covered by the data set. Broadly the results cover the requirements for receipt, storage, fulfilment and despatch and the costs incurred in process. The results are presented to the client for a "sanity check" and costs and productivity rates are benchmarked against industry standards.
Warehouse Performance Specifications
In consultation with the client, the warehouse requirements are then factored for growth in inventory, throughput velocity, fulfilment and despatch. These then form the performance specification which lays the base for the warehouse design options.
Warehouse Goals
The criteria, by which each warehouse design option is judged, are set. These can include, acceptable ROI, implementation costs, operational costs, image, flexibility, dependence on labour and many more.
Warehouse Constraints
The constraints that will shape the warehouse design options need to be identified. These will include amongst others, IR issues, capital, IT systems, risks, timing, clients capability, site/building availability etc.
Warehouse Options Design & Layout
A number of warehouse layout options are then designed by our consultants and costed at a high level. The costing includes implementation and warehouse operational costs and the client's preferred ROI formula is applied to each option. The designs include high level CAD drawings of the warehouse layout and materials handling equipment, manning levels and probable warehouse expansion options.
Warehouse Preferred Option Identification
The warehouse options designs, with implementation and operational costs, are then presented to the client and marked against the Performance Specifications, Goals and Constraints. Operational staff, potential suppliers, IT, sales etc. can be asked to provide input. The client can make an informed decision as to the preferred option.
Detailed Warehouse Layout and Design
The detailed layout and design of the preferred facility option will include, performance specifications, equipment layout, facility footprint and building design and cost, (new building), specification of static and mobile materials handling equipment, high level process design, detailed implementation and warehouse operational costs.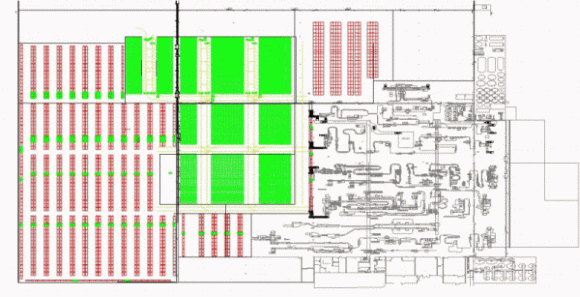 Warehouse Simulation
Depending on the complexity of the systems and capital cost of the preferred option there may be a need for a computer simulation model of the system's operation. The warehouse simulation model is time based, and takes into account all the resources and constraints involved, and the way these things interact with each other as time passes, confirming the system design.
Supplier Identification and RFT
The Logistics Bureau's consultants will provide a listing of suppliers of the required equipment/systems and seek expressions of interest. An RFT equipment specification is compiled from the detailed warehouse design. It also includes contract and payment terms, site conditions etc and is distributed to interested suppliers. The Logistics Bureau liaises with the potential suppliers answering any queries and distributing equally any new information that may come to light.
Response Evaluation
Responses are analysed and checked against the system requirements. In conjunction with the client, a supplier/response "scoring sheet" is compiled including loadings for critical areas and perceived risks. The Logistics Bureau will facilitate a workshop to assist the client in the evaluation and choice of the supplier partners however we do not make any recommendations as to the suitability of any supplier. Once the preferred suppliers' shortlist is identified the Logistics Bureau will assist in the detailed contract negotiations.
Once contracts are let the Logistics Bureau's consultants can assist in the project management of the system installation, commissioning and testing and implementation.
3 Issues That Don't Necessarily Mean Your Warehouse is Inadequate
Moving your warehouse operation to a new location can be a painstaking and costly venture, although, of course, many businesses reach a point where it's unavoidable.
However, as we've mentioned briefly on this page, there are ways and means to add several years to the useful tenure of a warehouse that's seemingly been outgrown or is no longer fit for purpose.
Here at Logistics Bureau, we're always ready and willing to help you find a new warehouse, decide whether you need one, or make operational changes to get a few more years out of your existing storage and distribution facilities.
You might not need our help right away, of course. For instance, if you believe that any of the three issues outlined in this brief article are constraining space or suitability of your warehouse(s), you might like to perform some analysis to learn if any solutions are readily available to you.
3 Issues That May Make Your Warehouse Seem Inadequate
1) You Can't Find Space for Activities or Storage
Questions to answer in trying to gain space:
Can you reduce the clearance between vertical rack sections?
Can you increase the overall height of your vertical storage?
Is it possible/practical to add walkable mezzanines in your warehouse?
Are your bins, pallets, or totes right-sized for your products, or are they holding lots of air?
Do you have too many slow-moving SKUs taking up storage space?
Could you reduce aisle-widths and switch to narrow-aisle forklifts and suitable MHE?
Are you wasting space, for example, by storing small units in spaces designed for larger objects?
Will the lack of space be temporary, perhaps solved by renting some short-term warehouse space?
2) Your Warehouse Operating Costs are Increasing
Is this a space issue, or something else?
Are your warehouse activities taking place in areas that have become choked with inventory? If so, you might refer back to section 1 to see if you can find more storage space.
Are you using manual processes for activities that could benefit from automation?
Has your warehouse throughput outgrown the capacity of your warehouse management system (WMS)?
Are you handling an increased volume of returns? This is becoming a more common problem, especially for companies engaged in ecommerce, and returns processing can inject inefficiencies if it's not managed carefully and smartly.
3) Productivity is Slipping
It doesn't necessarily mean your warehouse is no longer suitable:
If you're tracking productivity KPIs and notice performance is falling away, it's easy to assume that your warehouse is no longer adequate. After all, many elements of your supply chain and its management may have changed since you first moved into the space. For example:
Your SKU range may have grown or diversified
Sales volume might have risen
Order sizes and packaging configurations may have changed
You might have applied quick fixes to solve storage or process issues, which now slow your warehouse down.
Sometimes a review of warehouse layout and flows can reveal issues that don't need a new warehouse to overcome. You might find it possible to make small changes to fix them or even make some considerable optimization investments. In any case, the overall cost might well be less than that involved in moving to new premises.
Still Think You Need a New Warehouse?
If you've already looked into all the alternative options and decided that a larger, more strategically located, or better-designed warehouse is the only way forward, be prepared for a significant and possibly complex project.
It can always be a good idea to get a little impartial help from experts who regularly undertake warehouse relocation and design projects. If you decide that's the kind of support you need, our warehouse & logistics consulting team is ready to assist, so please feel free to get in touch.