Through its extensive span of activities, the supply chain sector offers wide-ranging possibilities for employment and career progression. The role of supply chain workers, simply put, is to contribute to or manage the process of producing the right amount of the right goods and getting them to the end-customer at the right time, ensuring customer satisfaction while being profitable. The variety of functions involved – product design, procurement, warehousing, production, transport, distribution, sales, for instance – encourages demand for new employees and multiplies possibilities for moving around inside too.
In parallel, many enterprises and organisations are expanding their supply chain activities, inspired by stars like supermarket giant Walmart, sometimes described as a superbly run supply chain that just happens to have a network of retail outlets. In a different context, online retailer Amazon spotted inefficiencies in the supply chains of other companies. It then exploited them with its own improved supply chain, making others start paying more attention to this fundamental part of their operations. Entities large and small, private, public, and not-for-profit discovered that they too had supply chains and needed supply chain employees to make them work well.
Opportunities therefore exist in all kinds of corporations, communities, and locations. This adds up to considerable potential for varied and satisfying supply chain careers. Supply chain workers can often pick an industry sector of interest (retail, travel, healthcare, automotive, utility, etc.), and leverage their supply chain skills and know-how to help them move to employment in that sector. If you do not yet have supply chain experience or qualifications, there is an extra, but not insurmountable step, as we discuss below.
The Supply Chain Career Environment
Understanding what differentiates supply chains from other sectors of employment can help you assess the interest for you, and your professional suitability for working in the sector.
Supply chain is often what people define it to be


Activities can vary according to the enterprise and the industry. One person's supply chain career might be focused on the specific area of freight forwarding, for example, whereas another person's might encompass end-to-end operational management from raw materials management to customer invoicing. Any career opportunity must be clearly defined in terms of scope and responsibilities, rso that you know if it aligns with your own expectations and aspirations. Remember too that market requirements, regulations, technology, and business objectives can all change frequently, transforming supply chain roles as a result.
The need for industry-specific knowledge


Enterprises naturally look for knowledge about their industry sector, both in recruiting externally and in making changes internally. General supply chain skills and knowledge can go a long way to helping you adapt to a new industry, but in some cases, you will need additional arguments to convince a potential employer. Depending on the stage of your career, industry-specific training programs, job rotation, and contract work may let you put that extra line on your CV that tilts a recruiter's decision in your favour.
Data and processes are fundamental to supply chain work


Even if supply chain is not an exact science, the focus is predominantly on facts, figures, and processes to help manage it properly. There is too much that depends on the proper functioning of a supply chain, notably enterprise profitability and competitiveness, to leave things to chance alone. Systems to track supply forecasts and flows can be very sophisticated. Processes are precisely defined, so that they mesh together for the least friction and the greatest productivity. Understanding data and being able to draw actionable conclusions from it, using IT or other tools made available, is a capability of growing importance.
No person is an island


This is especially true when working in supply chain. No other enterprise function touches as many departments, from sales, marketing, research and development, materials, and production, to shipping, accounting, payments, and finance, not to mention legal and public relations. If you work in a specialised function of supply chain, you will still need to know about the roles and requirements of your colleagues in other supply chain functions. The more general your supply chain management duties are, the more you will need to communicate with the other departments outside the supply chain to find synergies and solve problems to ultimately improve enterprise performance overall. With the delicate balancing act that many supply chains represent, it is also crucial that you know how any change on your side will affect other parts of the organisation.
Networking


This may be a forgotten fad in some other careers, but it is a fact of life in supply chain. Silo working stifles supply chain success and the careers that go with it. The paragraph above ("no person is an island") already sets the scene for in-the-job networking. Detection of career opportunities in Supply Chain also benefits from around-the-job networking, whether you are looking for a supply chain job or already in one. Customers, conferences, and colleagues past and present are all possibilities for sharing insights and information. Of course, generally, you should not expect to get more out of networking than what you put into it.
Supply Chain Skills and Roles
If the supply chain environment described above sounds like your cup of tea, the next step is to get down to the nitty-gritty of supply chain skills and roles. Note that even if entry-level positions are often specialised, this should not stop you from building up your personal inventory of transferable supply chain skills. These will serve you not only for career progress, but also simply in finding another supply chain job if you need one. For example, capable supply chain employees can still be made redundant simply because one organisation takes over another and rationalises the resulting supply chain operations by eliminating duplicate supply chain positions.
A supply chain workforce can be divided into the following broad categories (with examples of roles within those categories):
Management (supply chain director, supply chain manager, facilities manager)
Supply chain information systems (logistics analyst, process engineer, supply chain analyst, supply chain systems manager)
Warehousing (warehouse operations manager, warehouse operative)
Transportation (transportation manager, fleet manager)
Inventory (inventory specialist, vendor-managed inventory/replenishment specialist)
Materials and procurement (materials scheduler, materials analyst/manager, production analyst/manager, procurement analyst/purchasing manager)
Sales and customer service (director of client management/engagement manager, account manager/sales representative, account specialist/customer service, customer service manager).
Transferable skills and knowledge for success in different supply chain roles and industries can include:
Knowledge of logistics, supply chain management and transportation
Financial planning
Forecasting
Workflow optimization
General management and business
International business practices
Knowledge of laws and regulations
Mechanical skills
Languages
Watch out for new positions and skills arriving in supply chain as well. As in other domains, data analysis and business intelligence requirements and opportunities are now on the rise. Some positions may require high-level data analyst or data scientist skills. For others, you may be able to differentiate yourself positively by showing strong spreadsheet skills or experience using a commercial business intelligence software application elsewhere.
Women and Men in Supply Chain Careers
Historically, the supply chain sector has been dominated by male employees. Factors contributing to this situation include the manual labour involved in activities such as warehousing, shipping, distribution, and delivery, as well as traditional career orientations from the past. Now, however, two newer factors are encouraging both women and men to begin or develop their supply chain careers:
Changes in the nature of supply chain work. Mechanisation and automation has eliminated much of the manual labour that was frequently needed before. Collaboration, creativity, and problem solving are the new requirements, for which gender is not an issue.
Shortages of employees and coming retirement for current employees. When supply chain organisations are scrambling for people, they cannot afford to let discrimination or blinkered thinking block the entry or development of any capable candidates.
Moving into Supply Chain
While individual industries may offer varying supply chain career perspectives, new supply chain technologies and business models are encouraging employment and career development overall. A recent study from the Canadian Supply Chain Sector Council forecast that by 2017, supply chain employment in Canada would increase at an annual rate of over 8 percent for tactical roles and almost 15% for managerial roles.
On the other hand, supply chain management recruiters often look less for generalists and more for specific skills, whether for entry-level or higher positions. Requirements for industry and functional experience for entry-level positions may vary according to levels of demand for job candidates. You may be able to enhance your experience or compensate to a certain degree for a lack of it by using one or more of the following tactics:
Achieving relevant supply chain certification for the job roles of interest to you, such as Certified Purchasing Manager (CPM) and CPIM (Certification in Production and Inventory Management) for procurement. Check your possible "return on investment" too. In this example, statistics show the CPM qualification is held by more than 25 percent of purchasing professionals, compared to around 10 percent holding CPIM.
Working your way up by starting with an entry-level supply chain position as a warehouse operative, a supply chain analyst, a dispatcher, or other position that is readily accessible. The appeal (or lack of it) of this tactic will depend on factors like age, ambition, and current career level. For example, if you have been the general manager of a hypermarket, becoming a logistics chain analyst and no longer having 100 people to manage each day may come as something of a shock.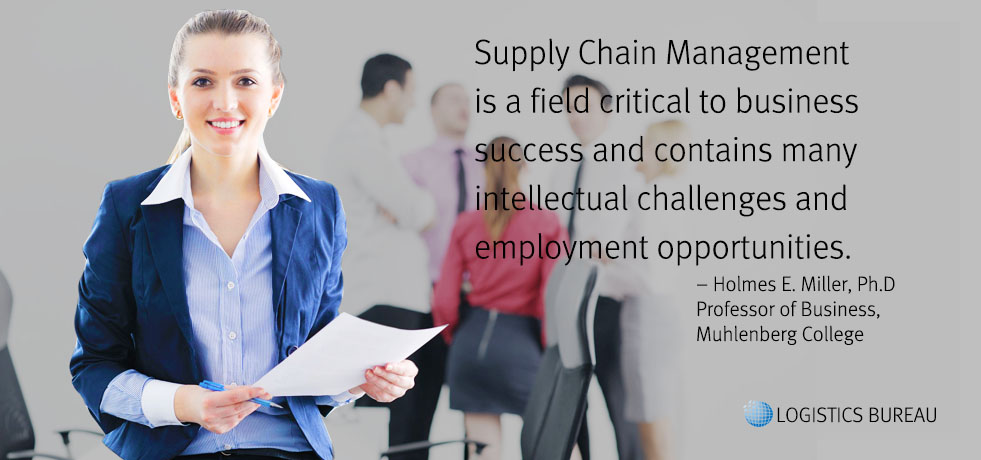 Getting to know the right people, especially those looking to hire – but also having enough supply chain gravitas (knowledge, experience, skills, certification) to lend weight to your CV and possible application.
Moving to a supply chain position from a neighbouring or related function, for instance, from accounting to inventory management, or from public relations to client engagement. Creativity and the ability to present your experience as relevant and useful can help narrow down the list of the most feasible moves. For example, a technical project manager or engineer might apply to become a procurement engineer and offer much-needed technical knowhow to the procurement team. A salesperson might also apply to become a procurement engineer, but instead bring knowledge of negotiating techniques in sales, and the ability to differentiate between suppliers who are honest and any others leaning towards sharp practices.
Working in temporary supply chain positions. Entry-level positions sometimes start with trainee posts or internships. Contract work is another possibility, although opportunities may be limited to those who can demonstrate relevant, prior supply chain experience.
Should You Make the Change?
Perhaps you already have a supply chain job interview scheduled – or even a job offer. Should you accept? Several factors will surely impinge on your decision, including job interest, longer term prospects, and of course remuneration. In some cases, a lower salary, at least to start with, may be acceptable given the interest and the potential of the position. However, if the proposed salary does not meet your expectations or needs, or if you are simply wondering how to tackle the matter in an interview, consider the following points:
It is easier to negotiate what you want during the interview or before accepting a job offer, instead of trying to do this after you have started. If you cannot get what you want or need, think about looking for another opportunity and/or boosting your perceived value to your potential supply chain employer.
Your perceived value to a supply chain will have a direct impact on the remuneration offered. You can boost it in two ways: presenting extra skills that are relevant to your employer's needs (with a corresponding supply chain technical or management certification, for instance); and taking on higher levels of responsibility, either from the outset or as time goes by in your new supply chain job.
Having a clear idea of what you will or will not accept as a change will help you make the right decision, instead of just jumping at the first offer you receive.
Moving around in supply chains
The same techniques and tips for getting into the supply chain sector often also apply to job changes when you are already in it. The sector is big and varied enough for many moves to be effectively career changes too, whether because of differences in the type of work done or the industry sector in which you do it.
Continued learning, networking, qualifications, and appropriate career strategizing are all items to work on as continuing background tasks to be ready to take advantage of opportunities as they arrive or as you create them. With suitable experience and skills, you might also opt to become a supply chain consultant, working with different clients to identify problems and opportunities, and implement solutions – a continuing sequence of mini supply chain career changes, if the variety is big enough.
Conclusion
Now could be the time for a career change into supply chain. The sector is growing, skillsets in demand are expanding, and so are opportunities for further career development inside the sector. In addition, the historical gender gap is narrowing and seems likely to continue to do so. Remember that supply chain careers are also a matter of common sense, as well as specialist skills and industry knowledge. So, exercise the first item (common sense), and acquire or adapt what is needed for the other two (knowhow and knowledge), so that you can maximise your chances of a successful supply chain career and make the change that is right for you.
Further Supply Chain Job Seeking Information.
Sadly there is not a lot I can do in helping you find a job in Supply Chain.  And I get a lot of questions about How to Find a Supply Chain Job and also How to Get a Job in Another Country.
These 2 videos should help.  Please watch them.
And Some Free Supply Chain Education