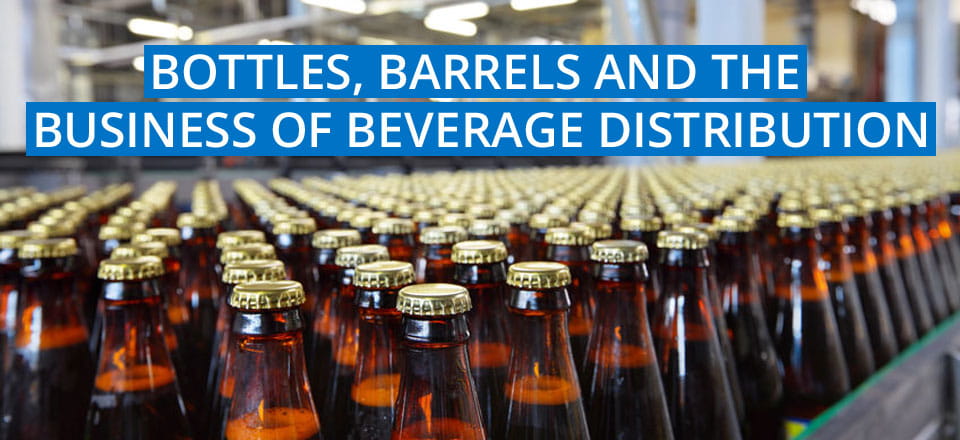 How many markets can you name that are worth 1.5 trillion dollars worldwide? Estimated at US $1,439 billion in 2017, the global alcoholic beverages market is forecast to grow to $1,684 billion by 2025 (2% CAGR)1. The global non-alcoholic beverage market size was valued at $967.3 billion in 2016, albeit with a higher growth rate of 5.8% CAGR2. Overall, that means billions of litres of drinks to be delivered to consumers all over the planet.
At the same time, beverage producers, like food producers and others, are being pressured in multiple directions. Retailer power has grown significantly as grocery and other retail outlets consolidate into fewer but larger chains. They use their weight to demand more favourable prices and services. Meanwhile, consumers remain eager to try new drinks with new flavours and ingredients, encouraging start-ups to enter the market and compete with established beverage manufacturing and distribution.
Supply chain and more specifically distribution have become key factors in remaining successful in the beverage market. By cutting costs of as much as tens or hundreds of millions of dollars, improvements in these areas can increase profitability and competitive advantage. Beverage companies cannot ignore market trends and preferences, but the battlefield is often as much the distribution network as it is the consumer's tastebuds.
Awareness, Branding, Category Management, and Other Drivers
Awareness and concern about health impacts are some of the reasons for the stronger growth of non-alcoholic beverages compared to alcoholic ones. Lower calories and natural ingredients are two demands from the market. With growing populations and rising disposable income of consumers, changes in the type and the volume of beverages to be made and delivered then affect inventory management and requirements for transportation.
Branding also plays an important part in beverage distribution, not just in terms of globally recognised beverage brands, but also the brands that beverage outlets want to build for their own establishments. For instance, offering locally supplied beverages helps the brand image of a restaurant as a supporter of the local economy. Similarly, promoting a commitment to offer only Fair-Trade products to customers can positively differentiate hotels, cafés, and even convenience stores.
Category management strategies used by retailers for carbonated drinks, beers, dairy beverages, bottled water, energy drinks, and so on now also extend back up the supply chain, including distribution. With the essence of category management being to treat each category as a standalone business unit, it makes sense that retailers will also look for the most favourable supply and delivery agreements as well as trying to sell more to their own customers.
Developments in technology like machine learning, a branch of artificial intelligence, will allow retailers to be more agile and surefooted. By analysing data and running "what if" scenarios, machine learning can even help them to anticipate customer trends instead of only reacting to them. In the same way that retailers will be able to "think like a customer, but act like a retailer", beverage distributors will then need to "think like a retailer, but act like a distributor".
Beverage Bottling and Warehousing
Bottling is a pivotal step between high volume beverage production and distribution in smaller units to consumers. The Coca-Cola Company is a classic example of beverage company with a successful bottling strategy. Paradoxically, Coca-Cola spent the first ten years or so of its life using American soda fountain outlets to distribute its figurehead product, even rejecting the idea of selling it in bottles.
The first bottling agreement was made in 1899 with three independent businesspeople, who organised the US into territories and sold bottling rights to local firms. Business took off and by 1909 there were several hundred bottling plants in operation. Some 30 years later, international expansion led to bottling plants in 44 countries across the globe.
As large retail chains formed towards the end of the 20th century, Coca-Cola's bottling also changed. Smaller bottlers combined to form larger ones, with Coca-Cola taking a stake in several consolidated bottlers to influence and help ensure their success in supplying large international customers.
Coca-Cola's bottling success has also had another dimension. The bottle itself, a key part of the product packaging, evolved early on to become the "contour bottle" that became highly recognisable to consumers, strengthening the Coca-Cola brand at home and abroad.
Warehousing strategy and innovation are strengths of another large beverage company, the drinks and brewery holding enterprise Anheuser-Busch InBev (A-B InBev). Traditional brewery installations use permanent structures that are expensive in both time and money. A-B InBev uses temporary buildings and semi-temporary warehouses instead. These structures are also designed for low ecological impact, including the minimisation of deliveries of construction materials to each site, thus diminishing the carbon footprint of each installation. Operational impact is also reduced by using translucent roofing to keep artificial lighting to the lowest level possible.
Multiplying distribution channels
Beverage manufacturers and distributors with different possibilities for bringing drinks to market can choose the one that is most advantageous. They may also choose to multiply the channels available to them. Guinness, now part of Diageo, uses multiple channels to bring its stout to consumers. In Ireland, the home country of Guinness, the company sells directly to large supermarkets like Tesco and Dunnes Stores from its headquarters in Dublin. These retailers buy in bulk from Guinness and sell to the consumer. Bulk buying enables discounts making the operation more profitable for the retailers.
Guinness also sells directly to consumers in its Dublin brewery when it welcomes them on tours of the brewery. It sells directly to pubs in the Dublin area, offering added value and differentiating Guinness from competitors. By comparison, on a global level Guinness leverages the brewery network of Diageo worldwide and from this the Diageo network of distribution to retailers and thence to consumers. This "glo-cal" (global-local) approach allows lower costs than transporting Guinness beverages to the world at large from Dublin.
Restricting distribution channels
In contrast to the flexibility of the Guinness model for distributing alcoholic beverages, the US three-tier system deliberately restricts the possibilities for such producers to bring their drinks to the market. Following the prohibition years from 1920 to 1933, the US government brought in a system for alcoholic beverage distributors in which a producer must sell to a distributor who must then sell to a retailer. Producers often give exclusive rights for a given region to just one distributor. Consequently, retailers and other outlets must deal with several local beverage suppliers if they want to offer a variety of alcoholic drinks to their customers.
This three-tier system with its additional structure and workforce raises the price of alcoholic beverages to the consumer. The beer distribution industry in the US alone employs 92,000 people with revenues of some US $8 billion per year. However, the system is being challenged. International producers with the backing of the European Union have demanded that the US system be made to conform to the General Agreement of Trade and Services (GATS), to make it easier for non-US brands to penetrate the US market. The acquisition of the leading beer brand of Budweiser by Belgian-based AB-InBev may well have been as much to improve access to distributors as to capitalise on the Budweiser brand image.
In addition, about 35 US states now allow some form of self-distribution by producers, even if limitations still apply. However, the attraction for independent breweries of increased margins (up as much as 25% to 30%) must be weighed against the higher start-up costs of paying for warehouse space, equipment, and human resources for logistics. Shelf space in outlets is another consideration, as much of this is already taken by brands supplied by distributors. Self-distribution may make more sense for local markets where profitability can be kept high. Inter-state and even international sales may still require the muscle of a competent, established distributor.
Other distribution possibilities
Many beverages (dairy beverages being a possible exception) have a sufficiently long shelf life to allow them to be stocked and sold through outlets other than large, high turnover retail chains. Convenience stores can stock different brands and sell them at a premium to consumers. These stores often operate outside the normal supermarket hours, catering to consumers who accept or even seek the "single-serve" purchase, albeit with its higher price. Vending machines use a similar logic. The difference however is that machines function 24 hours and require little or no manual intervention. The incessant thirst of many new consumers for new beverages combined with trends to source locally and naturally opens doors for smaller producers in the bars and restaurants of their own community. They often have a stronger card to play here than larger producers looking for bulk orders, although subsequent expansion may be another kettle of fish.
The Beer Game
No discussion of beverage distribution would be complete without a reference to the beer distribution game (or simply the "beer game"). This game was invented in 1960 by Jay Wright Forrester at the MIT Sloan School of Management. The game came from Forrester's work on system dynamics. Beer distribution turned out to be a well-suited case for the game.
The beer game is played by participants as a four-stage supply chain. In the game, a factory produces beer which then passes through a three-stage distribution system to finally reach the consumer. However, the participants are restricted in their ability to share information between the different stages. The lack of information makes it difficult to understand the real levels of demand for beer. Participants at a given stage cannot control the actions of participants at other stages, but they can influence them by placing orders for delivery of beer. This set-up can rapidly give rise to erratic and exaggerated orders for beer between the different distribution and production stages, a phenomenon also known as the "bullwhip effect" and present in many other industries.
Participants find themselves handicapped by a desire for high safety stock levels, poor customer service, suboptimal capacity utilisation, inaccurate demand forecasting, and low levels of trust between the different distribution stages. In the beer distribution and other industry sectors in real life, these problems may also be compounded by overly focusing on local optimisation, mistaking orders instead of customer demand as the supply driver, variable lead times, and inconsistent pricing policies.
Beverage distribution risks
Beverage distribution is not without its hazards. Besides the challenges of forecasting demand and responding quickly enough to changes in consumer preferences, examples of risks are:
Failure to comply with regulations
Beverage production and distribution, like those of food, are monitored by different regulatory bodies. The bigger the operation, the greater the risk of non-compliance for its customers, its partners, and its reputation and financial health. Production, storage, and transport must all observe regulations, including ingredients, production processes, workplace safety and health, and environmental impact.
Packaging hazards
Beverages can interact with the containers that hold them. Chemicals in packaging can be inappropriately can be released into beverages through shocks, vibration, and variations in temperature, or simply through contact with fluids. Inert packaging made of glass or stainless steel may require special arrangements for recycling. Post distribution, packaging can become litter that has the producer's brand stamped on it, identifying the producer as the root cause of the litter.
Unethical sourcing and production
Distributors of unethically sourced or produced beverages may find themselves tarred by the same brush as the producers. Tropical fruits used to make exotic beverages are one example, with the danger of ingredients being sourced in poorer regions whose workforces may be underpaid and underage.
Beverage distributor priorities
Retail price pressures and competition within the beverage industry mean that operating cost reduction is often a key driver of supply chain projects in general and beverage distribution specifically. Improvements in visibility and metrics are also popular goals. The beer game (see above) shows how critical end-to-end communication and visibility can be in a supply chain and its distribution network. The advantages can include higher efficiency, lower stocks, and better fulfillment.
On the other hand, a recent survey by Porter & Associates3 on food and beverage companies indicated that third-party logistics strategies and e-commerce initiatives seemed to be lower priorities. Labour management systems and ERP systems did not garner much enthusiasm either. This is a paradox given the overall goal of lowering operating costs and increasing efficiency. Both labour and transportation management systems could be quick wins for different beverage producers and distributors.
Technology-driven initiatives to improve results
While experience and judgment are still critical for beverage distribution success, appropriate use of technology is likely to differentiate leaders from also-rans.
Better forecasting and optimisation
Optimisation algorithms, simulations, and "what-if" analyses can be run faster and more reliably in software than manually. Predictive and prescriptive analytics are now an affordable reality with application and cloud service vendors offering high-performance, low-outlay solutions. Beverage distributors and producers can leverage big data like any other industry sector, using analytics to derive insights and recommendations for choices and action.
Multi-echelon inventory optimisation
Although good communication can do a lot to reduce unnecessary safety stocks, more is needed to combat the inefficiencies created by siloed distribution management, separating beverage stocks by type or location for example. MEIO considers all levels and locations of inventory in a distribution network to identify the best places to hold stock (possibly within delivery vehicles, not just in static warehouses) to keep inventory as low as possible without undue impact on customer satisfaction.
Integrated business planning
Beverage distributors have many sources of data from which to generate their business planning. Sales, marketing, operations, and finance are examples. However, teams may be using different systems to process their own part of the data in isolation from other departments. An integrated business planning software platform can help develop plans that make best use of total resources for the highest effectiveness in reaching business goals. When such software is cloud-based, authorised users can access it when they are in the office, on the road, or anywhere else with a mobile or internet connection.
Conclusion
Just as "location, location, and location" are often cited as the three most important things in property sales, "distribution, distribution, and distribution" could be held to be the three most important factors in the beverage industry. Distribution channels can be diverse and can present many opportunities for optimisation while dealing with price pressure from retailers and battling with competitors for more market share. The beverage distribution industry has as much potential as any other to take advantage of advances in supply chain and logistics if the companies in the industry adopt the new approaches and technology that underpin those advances.
What to do Next
If you are in need of help in your Beverage Distribution Logistics, let me know and contact me on the details below and I would be happy to help.